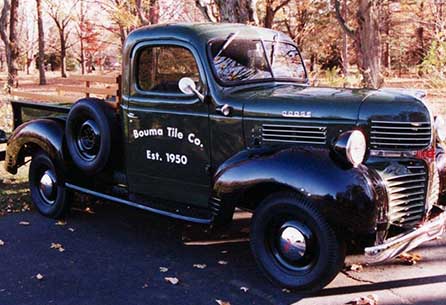 FAST FACTS
Family-owned and managed business for over 65 years
Began in Southwestern Michigan
Rooted in principled, respectful business practices
Dedication to relationship-building among employees, vendors and the wider community
Over 65 years ago, John Bouma Sr. started a business based on integrity, hard work and quality workmanship. Relationship building formed the core of his customer service. Back then, a handshake was as good as a contract, reinforced by character and honor.
Tile setters John and Paul Bouma borrowed $1,000 from their parents to launch their own business. In an era where a house cost $4,000, this was a significant financial commitment and one that presented a tremendous opportunity for the brothers.
In those early days, Bouma Tile Company focused on residential and commercial tile. The brothers worked out of the basement of Paul's house. Times were still lean and the days were long; it wasn't unusual to put in 15-hour workdays.
Bouma began to get a reputation in West Michigan for honesty, integrity and quality workmanship. This was earned for not only finishing the jobs taken, but finishing them on time – and within budget.
Today, Bouma Construction provides Design-Build, Construction Management and General Contracting services on commercial projects. While we serve a broad range of clients, we specialize in office buildings, shopping malls and retail outlets, hospitals and medical facilities, schools and educational facilities, and renovation work.
At Bouma Construction, a handshake is still a handshake. You have our word on that.

Approach
A COMPANY BUILT ON A FOUNDATION OF INTEGRITY
Over the years, Bouma Construction has developed a unique approach to doing business. Defined by integrity and characterized by the Guiding Principles, the "Bouma Way" has developed into both a philosophy and culture designed to deliver the highest quality product to our valued customers.
Communication
Personal communication with the customer represents the foundation of Bouma's business. This personalized attention is reflected in a desire to listen and identify customer needs, a commitment to following through on open issues and a desire to establish long-term working relationships.
Creative Problem Solving
Bouma values and nurtures a can do attitude among its employees. Barriers are considered challenges to be overcome, not avoided. New solutions are often developed through collaborative, innovative planning among team members. This competitive advantage allows Bouma to do things others think impossible.
Quality and Craftsmanship
Reflected in the roots of a Dutch community, Bouma Construction shares a passion for quality and pride in craftsmanship. Bouma considers each project to be a reflection of character and reputation.
Commitment to Budget
Bouma's pre-construction department plans for no surprises. The final budget is established by an experienced estimator only after extensive research, analysis and design. Bouma also offers multiple project delivery options as requested by clients or required by budgetary guidelines. Bouma's word is its bond. The controlling principle to do the right thing.
On-Time Delivery of Project
Advanced planning, due diligence, financial stature, know how, capability and selection of quality partners are the foundation for Bouma's accelerated delivery of projects. This provides both value and savings to the customer.
The Process
Over the years, a systematic process has been perfected to ensure quality project delivery within client budgets. This process is supported by investment in advanced technology and selectively hiring quality people. These factors are often unseen by the customer, but the results are evident.
Exceed Customer Expectations
The goal of the Bouma Way is to develop long-term, valued relationships with our customers. We understand that our future success stems from our ability to exceed expectations and deliver results better than our competitors.
At Bouma Construction, we prioritize quality. We follow best-in-class project planning strategies to ensure delivery on time and on budget. Bouma Construction is also dedicated to quality craftsmanship using only the best materials. We are committed to meeting your bottom line and ensuring a smooth concluding stage of construction.
All of our team members take responsibility for the safety of our employees, and we continually look for ways to improve safety through training and education on regulatory compliance.
Bouma Construction belongs to numerous professional associations, and is also committed to community-building initiatives. We host many annual events and are grateful to have been recognized for our expertise.
CULTURE
Our Guiding Principles have laid the foundation for a culture of respect, professionalism and relationship building among our team members, vendors and clients. We believe our company culture allows us to approach each project with an unmatched level of enthusiasm, innovative thinking and commitment to doing it the right way.
PROFESSIONAL ASSOCIATIONS
Construction Association of Michigan (CAM)
Design-Build Institute of America (DBIA)
Associated Builders and Contractors (ABC)
The National Association of Women in Construction (NAWIC)
International Council of Shopping Centers (ICSC)
EVENTS
Bethany Christian Services Adopt-A-Family (annually)
Walk to Defeat ALS (annually)
Supporter of Community & Educational Causes